Top results for ISCA and ActiveVoice partners' #GAPPA social media campaign
10/06/2018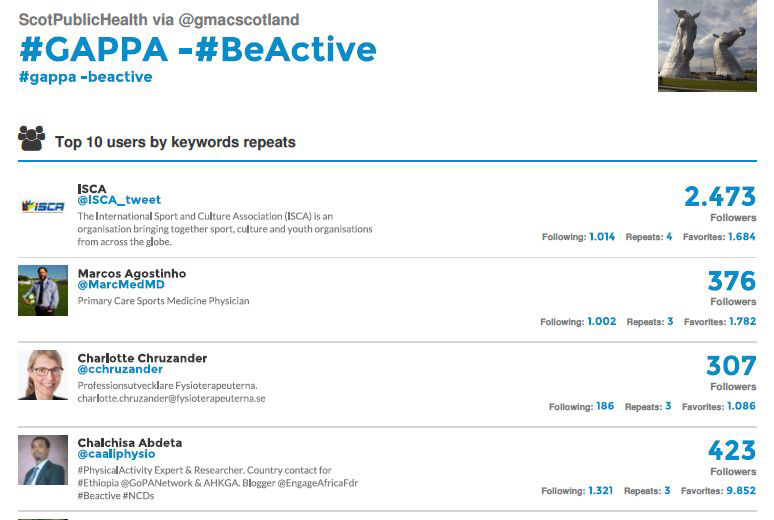 In 2017, ISCA and our members contributed to the World Health Organisation's new Global Action Plan on Physical Activity (GAPPA) throughout the drafting process, which resulted in more emphasis being given to the role of civil society to meet the plan's goals.
This year, we invited our project partners, members and extended network to join us in creating some social media buzz prior to the plan's adoption in May and launch in June.
And together we succeeded in making an impact.
A ScotPublicHealth report on the tweets and retweets of posts tagged #GAPPA put ISCA at the top of the list of Twitter engagement and our ActiveVoice partners UISP and Healthy Stadia in the top 10 of content related categories.
Our combined advocacy efforts underline the potential of the grassroots sport and physical activity organisations to get into the global conversation and influence policy in sectors such as health, which remains one of the top drivers of external attention to our sector.
"The WHO's Global Action Plan is an opportunity for ISCA and ISCA members to talk to governments and stakeholders, to cooperate and to push for more physical activity. And we will do our part, as civil society and grassroots sport organisations are they key agents of change." Jacob Schouenborg, ISCA Secretary General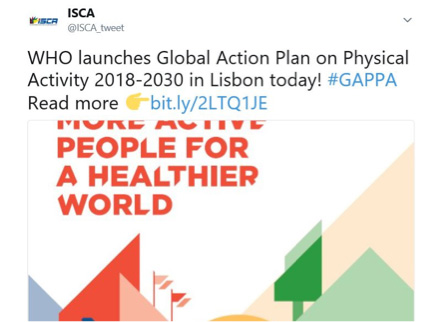 Caption: Top tweet! This post was one of the top 10 retweeted posts on #GAPPA (Source: ScotPublicHealth).