#ACTIVEVOICE
The limited progress made since 2008 to implement the EU's Physical Activity Guidelines, as mapped so far by the former Expert Group on Sport, Health and Participation, and most recently by the National Focal Points, points to several gaps in policy making and structures in the field of health-enhancing physical activity (HEPA) in the EU. Over these years, HEPA promotion has either not been treated as a major issue by national and local governments, or it has been addressed in a narrow policy context (i.e. by one ministry only) or in a fragmented way (multiple, non- coordinated policy interventions).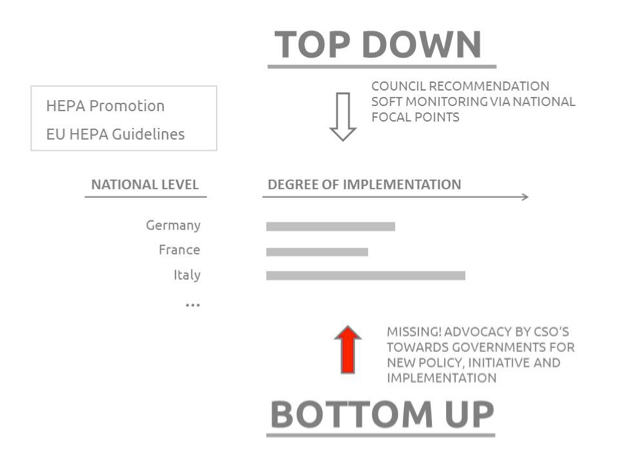 The ActiveVoice project partners believe that guidelines, recommendations and the corresponding soft monitoring of them are not likely sufficient in themselves to ensure an effective and consistent implementation across Europe. This approach, which we may call "top-down" is important for the policy context and – awareness and the benchmarking implied can have some agenda-setting effects. However, without a consistent push from other stakeholders beyond the EU and the governments themselves, i.e. a "bottom- up" policy implementation approach, the progress is likely to remain limited.
To achieve better progress, civil society organisations need to play a more significant role in pushing the agenda forward, in particular by advocating for better implementation of the guidelines to national and local governments. However, many organisations promoting grassroots sport and physical activity in the EU member states do not have the capacity to deliver advocacy, and many simply do not know where to start.
Giving grassroots sport organisations a more "ActiveVoice" in physical activity policy
The ActiveVoice project aims to develop relevant tools and resources that will help enhance these organisations' influence on physical activity policy and make their advocacy efforts more effective overall. The project partners are European umbrella organisations with experience in advocacy at an EU level. During the project, they will engage with their member associations (the national project partners and beyond) to deliver capacity building and facilitate alliance creation and specific advocacy interventions on national and local levels.
ActiveVoice project partners
International partners:
International Sport and Culture Association (ISCA), EPODE International Network (EIN), European Cyclists' Federation (ECF), European Healthy Stadia Network, European Physical Education Association (EUPEA),
National partners:
International Association of Sport and Leisure Infrastructure (Slovenia), UFOLEP (France), V4Sport (Poland), BG Be Active (Bulgaria), UISP (Italy) and Greenways SCE (Greece).
Project period: January 2016—December 2018
Total project budget: € 625,510
Co-funding: € 500,000 (EU Erasmus+ Sport Collaborative Partnerships)
Project manager and contact person: ISCA Head of Projects, Saska Benedicic Tomat, sbt@isca-web.org